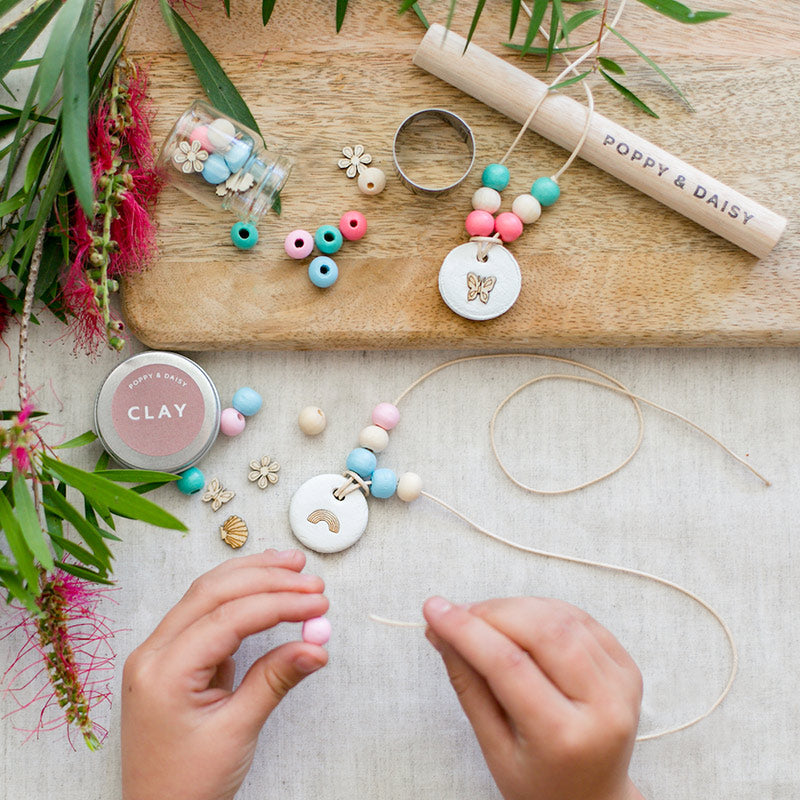 Friendship Necklaces Kit
Friendship Necklaces Kit
$34.00
or make 4 interest-free payments of $8.50 AUD fortnightly with
More info
Let's Create FRIENDSHIP NECKLACES!
Have a go at making your own clay friendship necklaces with this unique gift experience.
Roll out your air drying clay and enjoy decorating and designing two necklaces; one for you and one for your friend! Our kit includes a little gift bag, for you to give your handmade necklace to someone special.
Get inspired and let's create!
 KIT INFO
Makes 2 reversible necklaces
20 mins to make pendants
1-2 days drying time
20 min decorating time
No oven baking needed
Our eco products are special gifts that inspire children to have fun, create and learn new things using natural products, with no plastic!
A unique eco gift experience that you know won't end up in landfill.
IN THE KIT
Tin of air drying clay
Glass jar of wooden beads & shapes
Waxed cotton cord
Wooden rolling pin
Metal cutter
Cotton gift bag
Wooden rod
Proudly handmade in Australia using environmentally sustainable materials and packaging.
Safety Information
Our kits are not suitable for children under 3 as they contains small parts. We always recommend adult supervision at all times and for children to be 5 years and over.