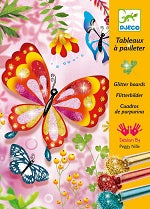 Djeco | Butterflies Glitter Boards
Djeco | Butterflies Glitter Boards
$21.00
or make 4 interest-free payments of $5.25 AUD fortnightly with
More info
Children can bring these images to sparkling life with this art and craft kit by Djeco.
Using the supplied tool, peel up the numbered section as per the instructions. The peeled off sections reveal an adhesive ready for the glitter. Sprinkle the glitter over the glue and brush away the excess into the packaging box, the glitter can then be sifted back into the tube ready for the next card. The instruction booklet indicates which number and colour is next.
Contents: 4 pre-glued cards (15cm x 21cm), 6 tubes of glitter, a tool, a brush, and a step by step booklet.
Suitable for ages: 8+ years
Product is constructed from: Cardboard / Paper / Plastic / Wood / Glitter / Metal